About Nikkei Asian Review "Corporate Subscription"
With more reporters and contributors across the region than any other business publication, only Nikkei Asian Review can give you a view of business in Asia from the inside. Stay abreast of the latest news, analysis, and insights with a subscription to Nikkei Asian Review – available online, on your mobile and tablet devices, and also as a weekly print edition.
Corporate plans provide you with 3 digital IDs and 1 weekly print at special rates.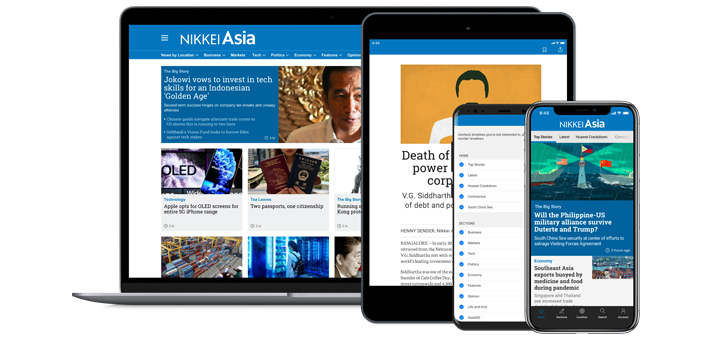 Politics & Economy

Looking at fiscal and monetary policy, international affairs and more.

Markets

Deep analysis of the capital and currency markets, with detailed industry news to keep you abreast of some of the fastest growing sectors in the region.

Opinion

Bringing views of leading minds on Asia from around the world, we provide a forum on Asia, for Asia watchers everywhere.

Asia300

In-depth coverage of the 300 most powerful and influential companines in Asia.

Japan Update

Keeping you up-to-date with business and news from Japan.
About subscription plan
3 Digital IDs

Unlimited access to the articles online & on mobile/tablet apps
Print edition (1 copy)

Weekly delivery to
your doorstep
※ Additional digital ID/s and print/s are available upon request at below rates.
※ Digital subscription is currently not available for corporate accounts.
※ Print edition is issued Thursdays and to be sent by mail. Delivery date depends on local circumstances.
※ Apps are available both at iOS and Android devices. (Updated on Thursdays)
Payment method
You may choose either from bank transfer, credit card payment and cheque.
* Payment by credit card and cheque is available only in selected areas.
* Remittance fees is borne by customer
Subscription fee (Rates are subject to tax in some areas)
Once payment is completed, the service will be provided free of charge within the month.
Basic Plan (3 Digital IDs + 1 Print Edition)

6-month US$ 234
Basic Plan (3 Digital IDs + 1 Print Edition)

12-month US$ 432
Products
Terms
Price
Australia, Brunei, CambodiaIndia, Indonesia, Laos, Malaysia, Myanmar, NewZealand, Singapore, Thailand, Vietnam
China, Hong Kong, Korea, Philippines, Taiwan
Corporate Contracts(3IDs+1magazine)
6-month
S$ 300
HK$ 1,800
US$ 234
12-month
S$ 550
HK$ 3,350
US$ 432
Additional per ID
6-month
S$ 90
HK$ 540
US$ 70
12-month
S$ 165
HK$ 1,000
US$ 130
Additional per magazine
6-month
S$ 75
HK$ 465
US$ 60
12-month
S$ 150
HK$ 930
US$ 120